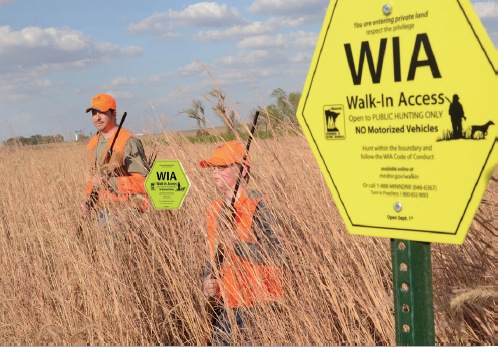 The primary objective of the Walk In Access Program is to provide new hunting opportunities on private lands currently enrolled in conservation programs with quality wildlife habitat, such as the Conservation Reserve Enhancement Program (CREP), Conservation Reserve Program (CRP), Reinvest in Minnesota (RIM), and the Wetlands Reserve Program (WRP). Other natural lands may also be eligible for enrollment if high-quality habitat exists.
In 2014, Minnesota had 20,708 acres enrolled into the Walk In Access Program and Pope County had 10 sites totaling 555 acres. Once enrolled, the land is open to public hunting access during any open hunting season, including spring turkey. The location of areas enrolled will be publicized in an annual book and posted on the DNR website. Bright yellow-green signs will be installed along WIA boundaries once land is enrolled. WIA land is for hunting only. There is no target practice, trapping, dog training, camping, horseback riding, driving, or fires allowed on the property. Landowners are protected from liability, unlike private leases. Trespassing and hunting violations will be dealt with by DNR Conservation Officers.
Eligible sites must meet the minimum size of 40 acres. Acreage smaller than 40 acres may enroll if the land is contiguous with a Wildlife Management Areas (WMA), Waterfowl Production Areas (WPA), or another WIA resulting in at least 40 contiguous acres open to public hunting. Landowners sign into a one year or multi-year contract, with the ability to cancel the contract at any time without penalty.
Payment rates for signing up with the WIA program include:
· $10/acre base payment
· $1/ac. incentive payment if area is more than 140 acres
· $1/ac. incentive payment if land is located within a half-mile of other public hunting (WMA/WPA)
$1/ac. incentive payment for a multi-year agreement.
So if you have land in CRP, RIM, WRP, CREP, or any other conservation program and would be interested in earning extra money off of it please contact the Pope Soil & Water Conservation District. You can stop by our office at 1680 Franklin St N in Glenwood or call us at 320-634-5327. We would be happy to answer any questions and assist with enrollment of your land. For more information, you can also visit www.mndnr.gov/walkin. Deadline for enrollment is June 1st, 2015.