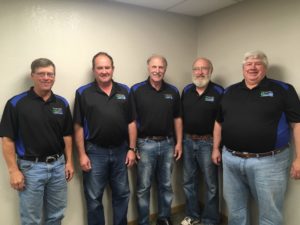 Keith Nygaard, President - Represents District 1; Reelection 2022
27378 180th Street, Starbuck, MN 56381 | 320-760-4745
Tom Talle, Vice President - Represents District 3; Reelection 2022
17553 295th Street, Glenwood, MN 56334 | 320-278-3770
Randy Pederson, Secretary - Represents District 2; Reelection 2024
131 East Minnesota Ave, Glenwood, MN 56334 | 320-634-4737
D. Gary Reents, Treasurer - Represents District 5; Reelection 2024
15821 County Road 29, Villard, MN 56385| 320-554-3328
Randy Mitteness, Public Relations - Represents District 4; Reelection 2022
32060 325th Street, Benson, MN 56215 | 701-238-0932

---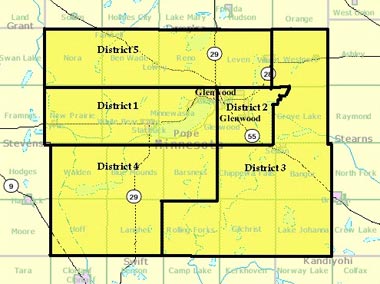 If you are interested in becoming a supervisor and want to learn more please visit the Board of Water and Soil Resources site.  https://www.bwsr.state.mn.us/swcd-board-supervisors  
There are 91 SWCD's throughout the state with each being governed by a board of 5 elected supervisors. They are elected by nomination districts on the general ballot (do not participate in primaries), and the terms are staggered. The next election will be in 2022. Interested individuals can file with the county auditor.  The filing period is May 17 through May 31st.  Those interested in running for SWCD Supervisor need to file an affidavit of candidacy and a $20 filing fee with their county elections official.  
The next general election will take place on November 8th, 2022. 
The current SWCD Supervisor compensation /per diem maximum of $125 per day.