Register online at: bit.ly/35P9eux
Greetings Irrigators,
We have also been working on continuing education credits.  For those that are interested in this feature this update will potentially provide 4.5 CEUs in Soil & Water Management (approval pending).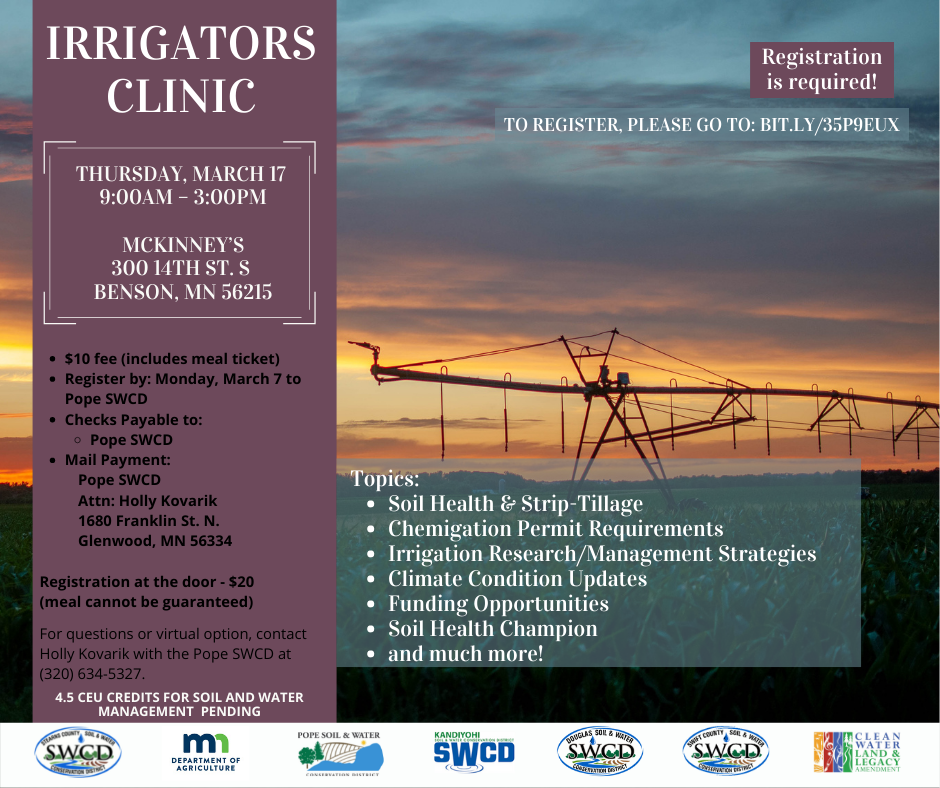 Attention Irrigators! The annual Irrigators Clinic will be held on Thursday, March 17th from 9AM-3PM at McKinney's in Benson, MN.
Agenda topics include:
Soil Health & Strip-Tillage
Chemigation Permit Requirements
Irrigation Research/Management Strategies
Climate Condition Updates
Funding Opportunities
Soil Health Champion
Pre-registration is required. Register online at bit.ly/35P9eux and then send in your payment.
Registration Details:
Register by Monday, March 7 to Pope SWCD
$10 fee (includes meal ticket)
Checks Payable to:
Mail Payment to:
Attn: Holly Kovarik
1680 Franklin St. N.
Glenwood, MN 56334
Registration at the door – $20 (meal cannot be guaranteed)
For questions or virtual option, contact Holly Kovarik with the Pope SWCD at (320) 634-5327.
This event is hosted by the Stearns County SWCD, Pope SWCD, Douglas SWCD, Kandiyohi SWCD, Minnesota Department of Agriculture with support from the Clean Water, Land and Legacy Amendment.
Local sponsors will be on site with informational booths and technologies.