The Pope and Stearns SWCDs and the Minnesota Department of Agriculture invite you to a Virtual Webinar on January 7, 2021 from 11:00 a.m. to 12:15 p.m. to be held via Zoom. We are asking you to pre-register for this event by clicking this link:
https://us02web.zoom.us/meeting/register/tZYucu6rrTguGNdBZPbSJnPFOeiuL3jfy0s5
When you register, you will receive and email with the direct link to the Zoom call. Please register by January 5th, 2021. If you have trouble registering please give our office a call at 320-634-5327.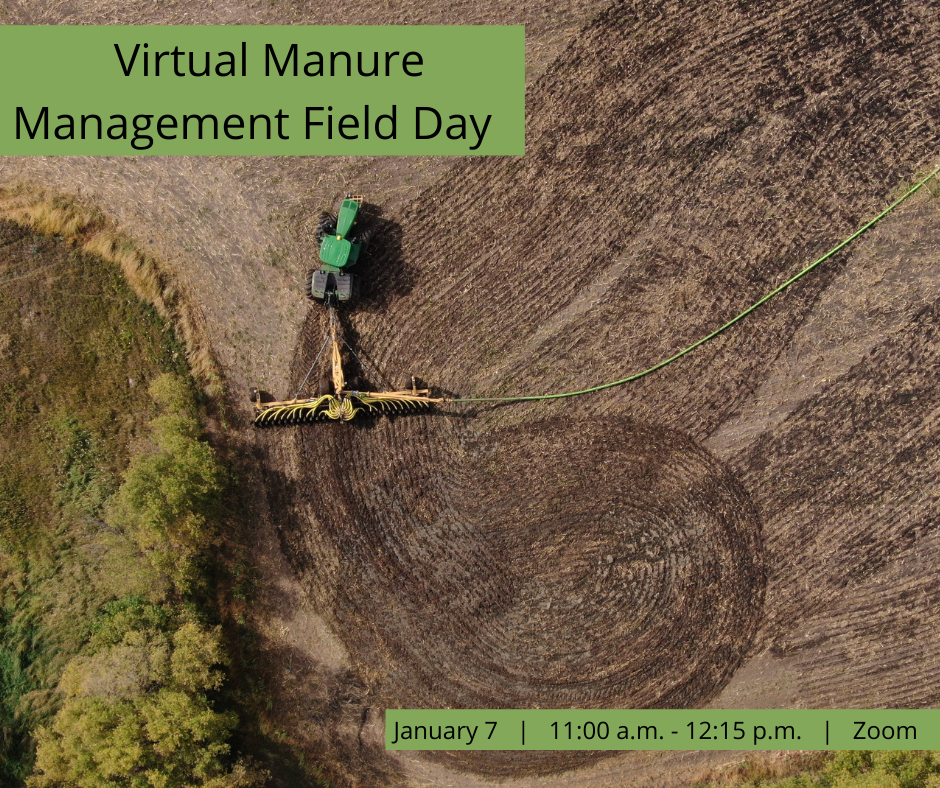 Virtual Manure Management Field Day to be held on January 7th, 2021
Join us for an informational webinar session about low disturbance manure injection, soil health, manure management, and tillage practices. Learn about how low soil disturbance manure injection into the soil is an effective management strategy for soil health and nutrient management. The virtual field day will place on Thursday, January 7th, 2021 form 11:00 a.m. to 12:15 p.m. via Zoom. 

Even though this field day couldn't be held in-person, the organizers and presenters have developed an informative virtual event that will include live interviews, videos, presentations, research updates, and Q&A. This session is designed for a wide audience including but not limited to farmers, landowners, agency staff, custom applicators, farm equipment dealerships, and anyone who utilizes manure on their operation. CCA Continuing Education Units (CEUs) for this virtual field have been applied for; .5 CEUs for Nutrient Management and .5 CEUs for Soil and Water Management.
During the virtual event, there will be live interviews from Greg Vold, co-owner of Dorrich Dairy, Tim Woeste, co-owner of Upper Midwest Pumping, LLC, and Kevin Wolter, Business Development Manager, Bazooka Farmstar. There will be research updates from University of Minnesota Extension staff members Melissa Wilson on manure management, Jodi DeJong-Hughes on tillage, and Anna Cates on soil health. There will also be drone footage featuring the application of manure taking place on Dorrich Dairy.
Pre-registration is required. To register, visitStearns County SWCD's website at www.stearnscountyswcd.net or Pope SWCD's website at www.popeswcd.org. Once you are registered, you will receive a confirmation email with your own personalized Zoom link; please save that link and utilize it to access the virtual event. Participants are encouraged to register by January 5th, 2021.
This virtual event is sponsored by the Minnesota Department of Agriculture's (MDA) Ag Water Quality Certification Program, Clean Water Funds, Pope SWCD, and Stearns County SWCD.
Hosted by the Stearns County Soil & Water Conservation District (SWCD) and Pope Soil & Water Conservation District (SWCD) in partnership with the University of Minnesota Extension, Dorrich Dairy, Upper Midwest Pumping LLC, and Bazooka Farmstar.
For more information contact Holly Kovarik, Pope SWCD at 320-634-5327 or Brittany Lenzmeier, Stearns County SWCD at 320.251.7800 ext.3