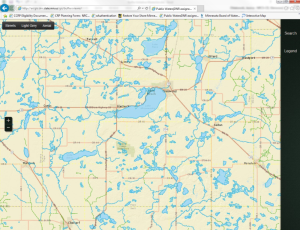 Comment Period Open on Statewide Buffer Mapping Project
In the previous year, the Minnesota Department of Natural Resources has been creating a Buffer Protection Map, based on the current public waters inventory, distinguishing the public waters requiring a buffer. Buffers are defined as "an area consisting of perennial vegetation, excluding invasive plants and noxious weeds, adjacent to bodies of water within the state and that protects the water resources of the state from runoff pollution; stabilizes soils, shores and banks; and protects or provides riparian corridors".  The Minnesota DNR has produced a preliminary buffer map. This map is currently open for public viewing, review, and has an open comment period. The buffer protection map can be found online at http://arcgis.dnr.state.mn.us/gis/buffersviewer/. The comment period will be close May 31, 2016.
After the comment period is closed, the Minnesota DNR will begin finalization of the Buffer Protection Map's public waters and ditches. Public waters will be required to have a 50 foot average with a 30 foot minimum buffer by November 1, 2017. County Ditches will be required to have a 16.5 foot buffer by November 1, 2018. Please be aware that Pope County has a shoreland ordinance. The counties shoreland ordinance requires a 50 foot, no variable width, buffer on multiple water bodies, including some county ditches. This information can be found at the Pope County Land and Resource office, Pope Soil and Water Conservation District office and online at http://gis.co.pope.mn.us/link/jsfe/index.aspx?defaultRole=Public.
Pope Soil and Water Conservation District is able to assist each landowner with identifying areas of interest, determining requirements, technical assistance, and compliance verification. We can also review the DNR buffer map with you and submit the comments directly. If you have questions or concerns about what may be required, technical assistance, or other guidance about the Buffer and Soil Loss Statute, please stop by the office or make an appointment with Jessica Oldakowski.