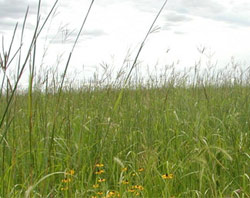 Minnesota native grasses are well adapted to the soil type and environment in the area. They are well adapted and require less maintenance as they are able to develop deep root systems, choke out noxious weeds, provide long term erosion control, and creates wildlife habitat.
Native grasses should not be planted using conventional drills because they will plant the seed to deep inhibiting germination. The seed is also too fine and will pass through the conventional drill. This will require the use of a specialized drill for planting.
Native Grasses, wildflowers, and forbs are available custom mixed to suit your site. We offer competitive pricing and a line of equipment that we can use to custom plant and prepare your site. You can also rent equipment and do it yourself if you so desire. Give us a call we can accommodate any job.
Kelly is available to work with you one on one and prepare a FREE site plan and evaluation. For more information on Native grasses or for pricing quotes call 320-634-5327 or email us.