The District provides a custom service to producers with irrigation.  This service will help you manage your water appropriation saving you time and money.  The service is a tool to help you decide when and how much to irrigate which is important to conserve and protect our sensitive ground water aquifers.
DOWNLOAD OUR IRRIGATION MANAGEMENT BROCHURE
When should I irrigate? How much should I irrigate?
Pope SWCD offers:
Weekly field soil moisture checks
Weekly updates with graphs suggesting when and how much to irrigate
Uniformity tests (Additional charge for this service as needed)
SERVICE BENEFITS
Maximize irrigation efficiencies and maximize yields
Conserve groundwater resources
Save money and time
Prevent under-irrigation and reduced yields
Prevent irrigating at the wrong time causing stunted root growth and decreased opportunity for rainfall storage
Loss of important nutrients which are
expensive and can cause contamination to groundwater
WEEKLY FIELD TESTING FOR SOIL MOISTURE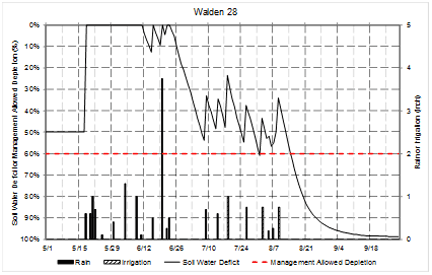 A SWCD Technician will visit each field each week to collect a soil sample in the root zone of the plant using a soil probe or spade. This information sampled will be entered into the computer program to estimate if adequate soil moisture is present for the crop at the current
growth stage.
---
INVESTMENT
$250.00 for the first field
$175.00 for each additional field
Includes all scheduling services, rain gauge, and rain gauge installation at each field.
INCENTIVES
20-35% savings in water, energy, pesticide, and fertilizer.
Increase yield by timely application of water during sensitive growth stages.
Decreased leaching of nutrients and chemicals into groundwater.
COST SHARE ASSISTANCE
Irrigation Management is an approved practice under the Environmental Quality Incentive Program (EQIP). Landowners should inquire with NRCS/SWCD staff to learn more and determine if they are eligible for this program.