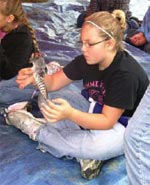 Conservation Education Day will be held on September 26, 2013 at the Scandia Woods Environmental Learning Lab (SWELL). An estimated 250 students and their instructors from Pope and Stevens Counties participate in this daylong event. Fifth grade students learned about the environment through hands on learning stations.
Students participated in activities related to wildlife, orienteering, prairie habitat, wetlands, and more. Representatives from the Raptor Center gave a demonstration to the students about birds, their habitats and traits. Conservation Day would not be possible without the generous support from local groups and area natural resource staff.
Check out Mr. Greene's Morris Area class video from Conservation Day.